PRACTICAL DETAILS
Firenze map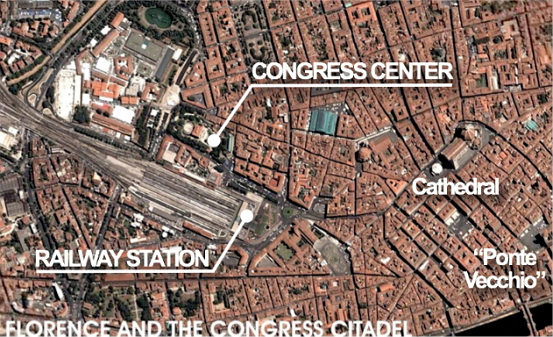 Travel advice
By air
There are frequent direct flights to all the most important European cities as well as convenient intercontinental connections.
Firenze Airport "Amerigo Vespucci" is only 5 km from the city centre. Bus and taxi transportation is available between the airport and city centre.
The Pisa Airport "Galileo Galilei" (80 km far from city centre) is served by several international airlines and is connected to Firenze by a shuttle train operating every hour. The trip takes approximately 1 hour.
By train
The new high speed trains conveniently and comfortably connect the central station "Santa Maria Novella" to Paris, Munich, Geneva, Amsterdam, Vienna, Barcelona, Zurich, Berlin, Copenhagen, London, etc. Eurostar trains connect Firenze with Milan (2 hrs approximately) and Rome (1 hr and 30 min approximately). The main railway station in Firenze is "Santa Maria Novella" which is very near to the Conference venue.
By car
Firenze is centrally situated along the major north-south motorway
A1 Motorway Autostrada del Sole - exits:
Firenze Nord for participants coming from Bologna, Milan
Firenze Sud for participants coming from Rome, Naples
A11 Motorway Autostrada del Mare
from Pisa/Livorno and Genoa/Turin
Transportation to the convention centre
From the airport
A bus connection (Volainbus) is operating from the airport to the city centre (main station) every 20-25 minutes.
From the main train station
From the main train station you can reach the Conference venue in 5 minutes walking.
Taxis
Taxis in Firenze can be ordered by telephone (055 4242 or 055 4390) or found at the official taxi stands. You cannot stop a taxi on the road.
Bus
Firenze has a comprehensive network of local bus routes. Most of them stop at the main railway station and therefore near to the convention venue. Bus tickets can be purchased at most coffee bars and kiosks. Fare is € 1,20 (March 2012) multiple trips, valid up to 90 minutes.
Tickets valid for 3 or 7 days are also available, at the fare of € 12,00 and € 18,00 respectively.
Car parking
There are several paying parking areas around the Conference Centre.
Weather
The weather in Firenze in June is usually warm and pleasant even if occasional showers can occur. The average temperature is 23°-28 °C.
Useful Links